Moscow Government prize for young scientists
The Moscow major with winners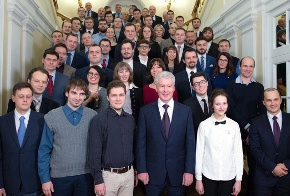 Congratulations to Drs. Stepan Tkachev, Danil Ivanov and Dmitriy Roldugin on gaining the 2015 Moscow Government prize for young scientists! Our specialists have won in the category "Mathematics, mechanics and informatics" for the series of papers "New approaches to attitude control of modern Russian spacecrafts".
The solemn prize-giving ceremony took place in the City hall on the 5th of February. Moscow major Sergey Sobyanin personally congratulated the winners and emphasized the intensity of the competition: "This year we have increased the number of prizes up to 30 pieces. However, competition between participants not only did not decrease but seems to have grown. 12 applications, 12 teams claimed each prize."
The video about the prize winners (in Russian)
The video of the solemn prize-giving ceremony.